Fuel Card Program - How can it help your business?
For small trucking companies the cost of fuel can be quite the burden. With PDM Financial fuel cards you can save money each time you fill up thanks to our negotiated price discounts. You can also optionally request fuel advances much like our factoring services to help you manage your cash flow and business capital.
Fueling benefits with PDM Financial
Fuel advance capabilities (get fuel in 1 hour)
Minimal transaction fees
Loading charges waived
24-hour customer service
Extensive reporting
Carrier controls
Security & convenience
PDM Financial Fuel Card Partners and Programs: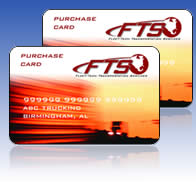 FTS
Fleet-Tech Transportation Services (FTS) has been providing fuel card solutions in the U.S. and Canada since 1982. Our customer service driven organization can deliver fleets the level of service they deserve.
« Back